Because Sometimes Movies Are Confusing Without My Help
Handy tip to keep in mind if you ever watch Death Wish (1974) for the first time: The criminals are the guys that can't stop wiggling around.
In the Death Wishiverse, normal law-abiding people stay relatively still (sitting, or walking in a fixed trajectory), whereas criminals bounce/shimmy/hop/skip/galavante around in wild, unpredictable paths. Slaloming around subway-car poles, touching everything, touching each other, whispering in each others' ears. Writhing. Like the zombies in 28 Days Later or the dancers in Michael Jackson's Thriller video, of which they are clearly precursors in all their skinny Jeff Goldblum speed-freak glory.
In fact, Death Wish is probably best understood as a dance piece.
I make this note because without this viewing tip, Death Wish would simply go over your head as you miss its depths and subtleties. You're welcome. Let's hope that the Stallone remake will adhere to this useful motif.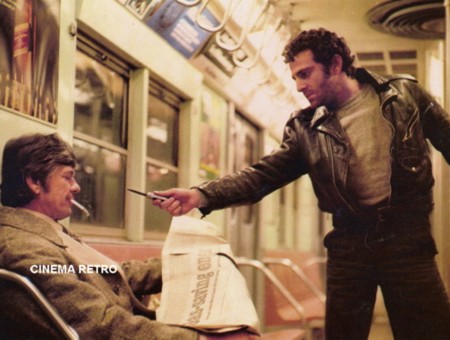 You can't tell from this still photo, but I assure you the guy on the right is the criminal, because of how much he was wiggling leading up to this moment.